Are you seeing a big puddle of water coming out of your washing machine? If yes, this can be disconcerting and the very first thing that would come to your mind is your wallet getting smaller. If you are in search of a how to fix guide here, you can get to learn about diagnosing and fixing your leaky washing machine without going to a professional. But before you get started, you must unplug the washer prior to starting any repairs. Otherwise, you would be risking your life and even your appliance.
First and foremost, try locating the source of the leak. Empty the machine of any water that perhaps be leftover. Then put a dry beach towel underneath, run the washer through a cycle without clothes in it. Watch the towel for any wet spots; also check the drain hoses for any water leaks or beads. Leaks could be at more than one source so you should be watching your washer until you are certain where it is leaking from. Once you have figured this out, it is time for you to determine how to fix it.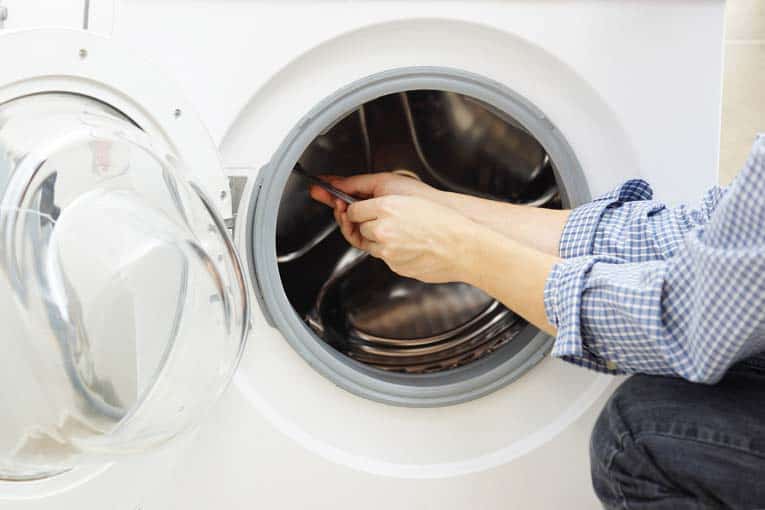 Check the hoses for leaks. This is the easiest and most common repairable option of leaking washing machines. If you notice water dripped or beading from the hoses during the testing phase then your point of concern is the hose. You may consider replacing the hose with a new one, or could replace the rubber washers on the inside of the hose using the Teflon tape to repair any cracks or holes. If you consider taping up the hose and still find leakage, then you should just replace it completely. If you are still not sure where the leakage is coming from, you may move on to the next step.
Check the washing machine pumps for leakage. There are two different kinds of washers: Direct drive and belt-drive. You will have to determine yours, and to do that you need to open your washer's cabinet. If you do not see any belts around, you have a direct drive, and if you do, it is certainly a belt drive.
Direct drive is easy to fix, simply unscrew the pump and install a new one. With the belt drive, the fix is a bit complicated. You would have to replace the entire assembly. You can look for the instructions online, but it would be wise enough for you to call in professionals to replace the drive proficiently. Check out more at careandrepairs.ca
(Visited 78 times, 1 visits today)