How to Buy the Best Outdoor Furniture In Australia?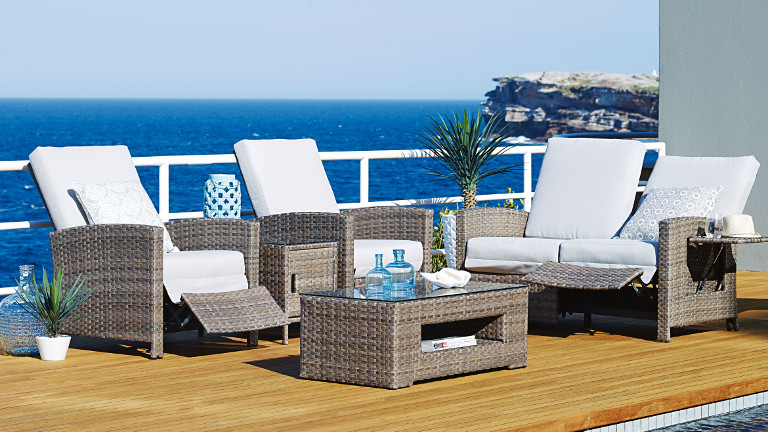 The weather in Australia is mild and pleasant. It is a country that experiences lots of sunshine, and what better way to make life worthwhile than to sit outdoors enjoying the weather and the beautiful surroundings? But of course, you will need some furniture to enjoy a good time outdoors. Luckily there are so many outdoor items you can choose from, depending on what you prefer and what you find suitable for your outdoor area. Whether it's a garden, patio, deck, or backyard, you will find furniture to bring the best out of it. So how do you do it?
1. Decide Whether You Are Buying Ready Or Custom-Making Your Furniture 
Buying readymade furniture is what most people do because of the convenience that comes with the option. With the ready pieces, you just need to decide what fits your perfect outdoor space, which is done as soon as you make a purchase. On the other hand, having your furniture custom-made for you is great because you have a say in everything, from the materials used, the colors, the sizes, and any additional features or aesthetics. If you have a clear image of what you want your space to look like, then it would be best to have your pieces custom-made for you. But whether you choose ready or custom-made, you can be sure your space will get what it deserves.
2. Know The Area You Wish To Cover  
The outdoor area you wish to have the furniture on is very important. When you start by knowing that area's size, you will easily choose the most suitable items. You might be interested in a specific sitting area, or you can have the furniture scattered in different parts of the yard depending on what you feel is best. Evaluating the space available and what you want where will give you an easy time getting everything you need at once or prioritizing one area after the other.
3. Decide What Pieces Are Best For What Spots 
Do you need a bench near the fountain? A dining set in the gazebo? Comfortable sofas and tables near the fire pit? A hammock in the shaded garden area? There are so many outdoor furniture options, and it will be up to you to decide what is needed and where it goes. Your preferences and the available space will guide you to the best outdoor furniture pieces or sets.
4. Prepare A Budget 
Financial management is important no matter what you are buying. Whether you are getting a few pieces or several items for the garden, you should be clear about the amount you are willing to spend on your outdoor space. The decision to buy takes time and preparation, and you should have a specific amount allocated for the upgrade or renovation. When you have a budget in place and know what items you need, shopping and buying will be smooth and easy. A budget helps keep you in check and avoid random buys.
5. Narrow Down Furniture Stores And Outlets
Australia has hundreds of furniture stores and dealers. The easiest way to find the best pieces near you would be to narrow down to those near you. Sometimes showing up for a physical search is better because you can even test the items before purchasing. You also have the option of checking with local carpentry shops; you never know what finds you could get. Alternatively, you can still search for outdoor furniture online and even deliver it to where you are. You can pick a few stores, compare what they have, and then decide.
6. Choose your Furniture 
At this point, you have everything covered, and now the remaining part is to decide what pieces to buy. Outdoor furniture can be wooden, metallic, steel, plastic, or even made from rattan and wicker. The material options are numerous, and they come with their pros and cons. The quality, comfort, and aesthetics you are looking for should guide you in making the right decision. Consider how suitable the material is for the outdoor space and the elements it will be exposed to. If it will be affected by a few things, think of possible control measures and whether you are ready for them. The colors, fabrics, and additional items like cushions and pillows will also need to be decided here.
7. Decide On Proper Care And Storage 
Even though Australia experiences a pleasant climate most of the year, it still goes through various seasons. There will be times you can't sit outdoors and enjoy the things you normally do. Therefore, you need to devise a proper care and storage plan to ensure your furniture storms all weather conditions. For instance, pillows and cushions can be left out in the rain and might require storing away after every use. Some materials, too, when left under harsh conditions, will deteriorate and spoil quickly. If your outdoor space is not sheltered, you need to come up with a solution. You can have some storage space for your items or find a way of keeping them safe from harsh elements. There is always something you can do to extend the life of your furniture and maintain its quality and aesthetics.
Creating an outdoor space, you will love to enjoy is always exciting. There is so much you can do even with a small space when you are well prepared and know exactly what you need. But even when unsure, you can use professional services to have your space transformed into exactly what you envision it to be. Most service providers are willing to come, see and evaluate your space and then advise you on the best way forward. If you choose to do it on your own, work with reputable outlets to find what you need for the space. It is easy to create a haven when you already know what you want to get and where you will be placing it.