How To Make a Countryside-Themed Kitchen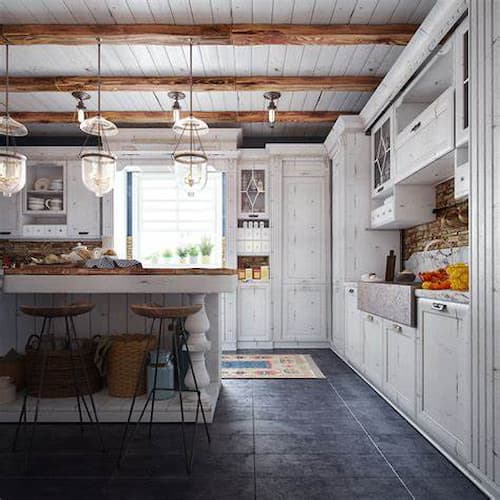 If you want to add a pleasant accent to your room, a country kitchen is one of the best themes you can choose. This kitchen can blend traditional and modern design components perfectly, making it functional and elegant. Furthermore, a country kitchen can be customized to represent your likes, preferences, and personality, making it a one-of-a-kind and memorable room. The use of natural materials and colors in a countryside kitchen design aids in the creation of a link to the natural environment. So, if you want to create one, here is some advice we can give you to ensure that you have the greatest one for your home.
Few Ideas You Need to Know
Here are a few ideas to create a cozy and functional countryside kitchen:
Be Aesthetic
The first thing you can do is include neutral colors and natural features in your kitchen. As a result, you can consist of natural elements such as wood and stone in the design. You can create this one through wooden cabinetry, a stone backsplash, or a solid wood countertop. It will give you the desired aesthetic because most natural materials provide a comfortable vibe. Moreover, you can also save money because most of these materials are less expensive than metals and steel. Coordinating the wooden furniture and fittings, you will design for your kitchen space is similarly more accessible.
Put Natural Elements
Another thing you may do is adorn your kitchen with natural components. Bring natural elements like a bouquet of fresh flowers or a little herb garden on the ledge. You can also add character and warmth by using old or antique pieces. These are some of the most effective ways to bring the countryside into your home. Rattan fixtures and furniture are among the most excellent fixtures you can use. For example, as a paper towel dispenser, a woven basket near your kitchen mixer taps might be a lovely accent. Furthermore, antique things such as plates and cutlery might evoke countryside emotions.
Be Bare
Often, countryside kitchens feature a basic look. You may find it incomplete, but its purpose is to demonstrate how it can be one with nature. For this option, consider adding a rustic accent to the kitchen with an exposed brick wall, a barn door, or a reclaimed wood ceiling. This method is simple because you don't need a lot of paint to accent your walls. Furthermore, no elaborate designs are required because the plain appearance can provide the sensations you desire for your kitchen. It's both attractive and simple to execute.
Be Well Lit
Another thing to consider before designing your rustic kitchen is adequate lighting. This motif frequently features more oversized windows with views of fields and lawns. However, a large window may not be viable if you are in the midst of the city. As a result, you can combine overhead, task, and ambient lighting to create a warm and appealing environment. Also, if there is a nice area in your kitchen for natural light, you can experiment with adding methods to let the light shine throughout the day. This feature will likely save you energy as you can use the natural element in your theme.
Add Kitchen Island and Other Essential Needs
Another thing to think about is putting in a vast island. This fixture is another option to make your kitchen look more appealing. As a result, place a kitchen island or a wide farmhouse table in the center of the room to serve as a meeting spot for family and friends. Additionally, ensure that the kitchen is functional and user-friendly, with plenty of counter space and efficient appliances.
The Bottom Line
A well-designed country kitchen might motivate you to cook more at home and enjoy preparing and sharing meals with your family. We hope you can now make your own.