Which houses are the most affordable to build?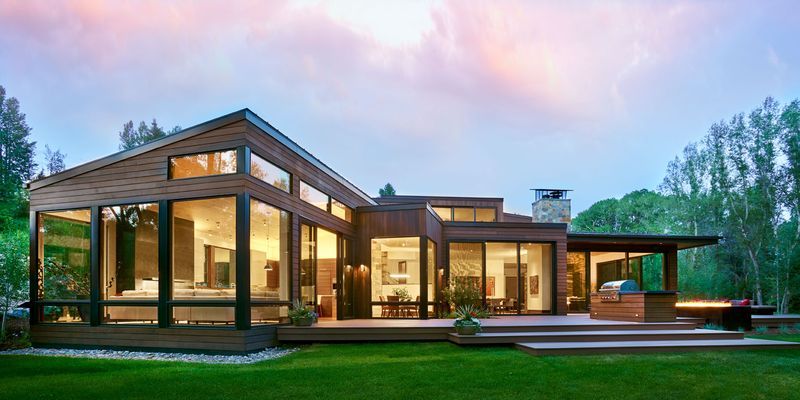 "Small, cramped but own". These are the association's many people have when they dream of having their own home. Does it have to be like that? Not necessarily. In this article, we will look at which houses are the cheapest to build and operate and what factors affect the costs incurred.
How much does the cost of the cheapest house design?
There is no definite answer to this question. The cost of designing and building a house depends on the location, the investor's preferences and needs. So before he starts looking for his dream project, he should consider what he expects from his "small but own" house and verify it against his budget.
The design of a cheap house should have a simple body and a gabled roof without additional dormers or bay windows. Its square footage should be "tailor-made" for the needs of the hosts. Costs are also made more expensive by balconies, terraces and a large amount of glazing.
A good solution for families with young children is to build a small house with a usable attic, which can be adapted when the kids grow up. An excellent example is a UA95 project, where two bedrooms are on the first floor, and the attic can be designed with more rooms.
Older retirees yearning for peace away from the hustle and bustle of the city will choose a small single-story house, unconstrained by stairs to the first floor and other architectural barriers. An inexpensive yet comfortable house for a retired couple will be the "ala123" or "Eva" mini project, where two bedrooms and a large, spacious living room are designed.
What costs affect the design of a cheap house?
The first cost to consider is the construction technology. Depending on whether you choose to build with traditional technology or, for example, prefabricated technology, the costs can differ by up to 30 percent. Since one of the most severe price drivers is labour, we will build cheaper if we do some work ourselves.
You can also save on construction by choosing standard house designs. The construction of a basement or garage is also a not insignificant cost.
Already at the house's design and construction stage, you can also think about ecological heating solutions. Although they cost more, the profit will be felt during operation. In addition, in the case of obtaining subsidies for RES products, heating a house can be relatively cheap both during installation and use.
More info" xmxlondon.co.uk
You should also not save on the quality of materials, because according to the statement "what's cheap is expensive," the same or higher money will be spent in subsequent years on heating and also on renovations and construction improvements.
What kind of house is the cheapest to maintain?
Building a house is one thing. It still needs to be maintained. We assume that in the first years of operation of a house made according to the art of construction, there will be no problems with major repairs. Therefore, the primary cost will be ongoing maintenance.
The impact of the design of a low-cost house on operating costs
The cost of maintaining a low-cost house depends mainly on its design and location. Choosing a house with an optimal number of glazings will reduce heat loss. In the autumn, windy season and in winter, heat also escapes through the front door, so it is worth opting for a vestibule or even a small vestibule.
Small bedrooms will be easier and faster to heat than large areas. Situating the room where you stay most often on the south side will save on heating in winter. If the house stands in an open space, it is advisable to plant it on the windy side with a dense wall of trees, such as thuyas.
Which heating will be the cheapest?
If our house is chosen adequately to the demand and made of optimal quality and price materials, the cost of both construction and maintenance should not alarm us. A house with well-insulated walls, foundations and roof, and triple-glazed windows will not generate high heating costs, which account for about 70% of our operating bills.
There is no one-size-fits-all way to heat a house most cheaply. The choice of heating depends on the house's cubic capacity, the residents' preferences and the possibility of obtaining the subsidies mentioned above for ecological heating systems. Significant savings are also provided by thermostats installed in each room.