LED Mirror Ideas That You Will Love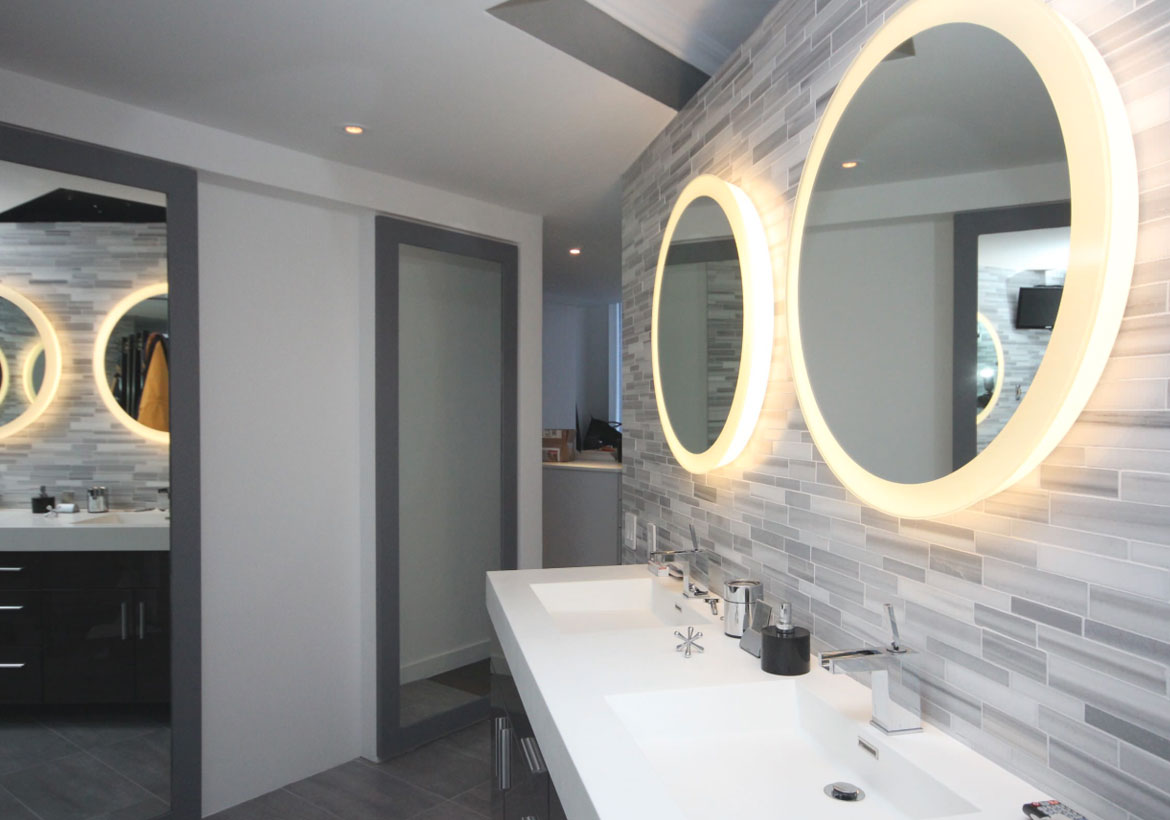 Led-lighted bathroom mirrors may transform any bathroom and reveal a bathroom's underlying elegance and sophistication. There are numerous ways to improve the design of your bathroom mirror using different design concepts. Consider a backlit bathroom mirror or a mirror that is illuminated from all sides to enhance the appearance and ambiance of your opulent bathroom.
The mirror in your bathroom acts as the focal point. Use your bathroom mirror to reflect your appearance and overall sense of style in interior design. A nice mirror is a bathroom necessity, whether it's to aid in your makeup application, tooth brushing, contact lens insertion, or hairstyle.
Different Types of Bathroom Mirrors
The typical image of a bathroom mirror is of a single, sizable, solid piece of glass that hangs over the vanity. It might have little personality, even if it could be a typical design decision. There are many various kinds of mirrors that might fit in your bathroom.
Full-Length Mirror
A full-length mirror is set up vertically across from a vanity mirror to provide the impression of greater space and give you a way to see yourself from head to toe. Full-length mirrors make the room appear larger and give the bathroom lighter. Depending on the available space, you can mount them horizontally above your twin vanities to offer a significant reflective surface to your design without compromising attractiveness as you would with a typical, frameless mirror.
Mirrors with Decorations
Wall mirrors are the category that decorative mirrors typically belong to, but when it comes to bathroom design, they need to be mentioned individually. These smaller wall-mounted choices come in a range of sizes and forms. They can have fascinating design features by having unusual shapes like birds, flowers, and the sun or straightforward geometric designs that aren't squares or rectangles. Decorative bathroom mirrors could also have particularly intriguing frames that give your room a hint of luxury, modernity, or glamour.
Framed Mirrors
Framed mirrors are available in many different materials, designs, patterns, colors, and more to add personality and flair to any bathroom. Such lengthy, framed mirrors give your bathroom the ideal décor and give you a comprehensive image of yourself.
Frameless Mirrors
As the name implies, these mirrors have no frame, yet they provide a simple, straightforward style that goes well with modern, minimalist bathroom furnishings. Those that have simple yet distinctively themed bathrooms choose frameless bathroom mirrors.
LED Mirrors
Getting the ideal lighting to make your mirror look better? It might be a good idea to install LED makeup mirrors in your bathroom. By encircling your led bathroom mirror, lights could provide a touch of vintage beauty to your space. Little mirrors and sconces with brilliant lighting are also effective in small spaces. Additionally, keep an eye out for lighting fixtures that go well with the room's overall design. These choices will help you create a light and bright area in your bathroom, which is especially helpful if it doesn't have any windows.
Vintage Mirrors
Your bathroom can benefit from mirrors that have a vintage feel to them. A retro bathroom design can start with vintage or vintage-inspired décor items. Even the common spider-webbing rust and discoloration on older mirrors can work in your favor.
A vintage mirror will look great in your bathroom to add a touch of nostalgia and invoke memories of simpler times. Because of the subtle textures and workmanship, you might smile at yourself every time you look at it.
Backlight Mirrors
Sometimes an overhead or bulb light is a touch too strong. Try using LED strips to make your mirrors brighter. These lights come in a variety of tones and shades. Backlighting makes it possible to apply makeup and see tiny facial details.
Takeaway
A bathroom is complete with a mirror to compliment the vanity unit or units and provide users with a useful tool to make themselves presentable to others. Bathroom mirrors can visually expand small spaces by reflecting light around them. They can also influence the décor with their style and design.