The Significance of Auto-Tagging for Achieving Content Reusability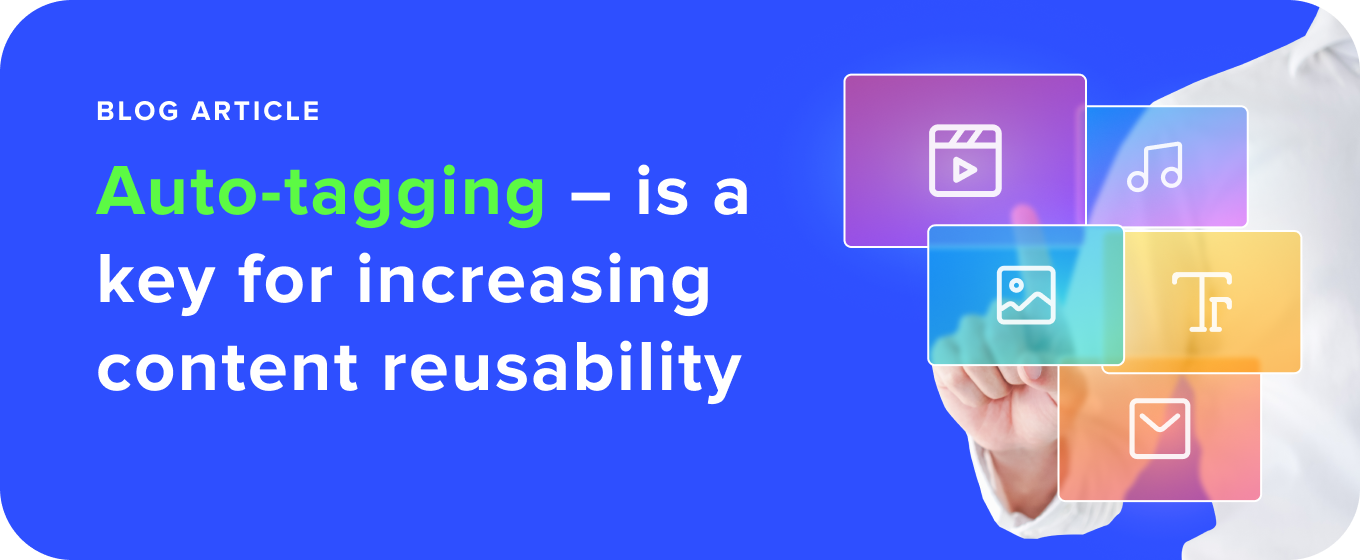 How Auto-Tagging Can Enhance Pharma Companies' Digital Asset Management Systems.
Pharmaceutical companies invest significant resources in their digital asset management (DAM) systems to optimize their digital content. However, the absence of proper tagging can result in difficulties in locating and reusing assets, diminishing the system's overall ROI. This article delves into the significance of auto-tagging and metadata in the context of DAM systems to help pharma companies achieve better content management.
What is Metadata?
In the context of digital asset management, metadata refers to any attributes that enable search and discovery — anything embedded in the digital asset when it's uploaded, such as the file name, author, date created, and content type, plus any other metadata fields you create. There are additional ways you can approach metadata, such as:
Adding hierarchical keywords based on your content taxonomy

Adding descriptive metadata to define campaign-specific collections of assets

Create tags to credit the asset's creator, author, or photographer, and require approval to use the asset by tagging by request.
All of these tags will be added to your library of digital assets. As you can imagine, marketing teams have thousands of assets, and performing the tagging process manually will take a lot of time. Fortunately, thanks to AI, this process can be automated.
How Does Auto-Tagging Work?
Basically, the way auto-tagging works is that there are tagging engines that scan incoming forms of various content types and extract key metadata with minimal training from the AI engine. This leads to quick startup cycles and ROI for the software. This approach works well for free-form content, such as articles, where the system extracts information from the content and populates the metadata. The AI tool analyzes uploaded images and documents and suggests tags that can be added to these files, based on its analysis. For example, if an image contains a person, the engine will detect things like gender, age, facial expression, etc.
If you have an article, image, video, or any other type of unstructured data, the tagging Engine may automatically apply the tags "artificial intelligence" and "content management" because it shares many of the same terms and topics of existing articles with those tags already applied.
Improve Content Re-usage in Pharma
Nowadays, pharma marketers need to create content for various channels, and the sheer volume of content needed can be overwhelming for even the largest and most efficient marketing departments. By tagging all of your content assets, you will be able to reuse and repurpose existing content for new marketing campaigns and initiatives. You will be able to search your digital asset management system and easily see which pieces of content you have available and create a patient or HCP experience you would like to see. Since all of these assets are already MLR approved, you will be able to save additional time, and you can create the content yourself without the need to engage any other team.
Additional Benefits of Auto Metadata Tagging
One of the biggest advantages of auto-tagging is the time that you will save. If your digital asset management system has the capability to tag content automatically, the AI system will follow the tagging rules that you set up to analyze and tag your assets. It will then apply additional metadata tags, which can save you days of work.
When assets and documents are tagged correctly, your digital asset management system's search engine will be easier to use. Internal teams and external stakeholders can quickly find the assets they need (instead of weeding through unrelated search results). To improve the suggested tags over time, you can review them, so the AI learns from what you approve or reject. It may also help you refine your tagging taxonomy — thereby improving asset discovery for all of your users.
Why Use eWizard Auto-Tagging Engine?
eWizzard Auto-Tagging Engine directly integrates into your company's digital asset management system and automatically applies auto-tagging for the resources existing in the company's DAM system and assets added after the integration. Best of all, there is no effort required from the user.
We use proprietary algorithms and leverage APIs from tech giants like AWS to quickly and accurately inspect all of the content within each asset while applying specific, descriptive metadata. It uses product-image recognition to add branded tags, video scene detection to analyze video frames, and speech recognition to transcribe and pull information from audio.
We streamline the search for assets in three ways:
We use natural language processing to better understand the searcher's intent.

As the eWizard Auto-Tagging Engine searches, it re-analyzes the content of your assets and scans through all of the available information about each asset, including the asset's metadata and tags.

eWizard Auto-Tagging searches through your entire asset library instead of requiring you to search collection-by-collection.
Are You Ready to Automate Metadata Tagging?
Busy marketing and sales professionals don't have time for monotonous administrative tasks. With eWizard Auto-tagging Engine, you can upload all of your assets and trust our AI to tag them in a way that makes sense — no manual metadata tagging required!
Contact us today to learn more about how the eWizard Autogaging Engine can help your business.