Does a Fence Increase Home Value?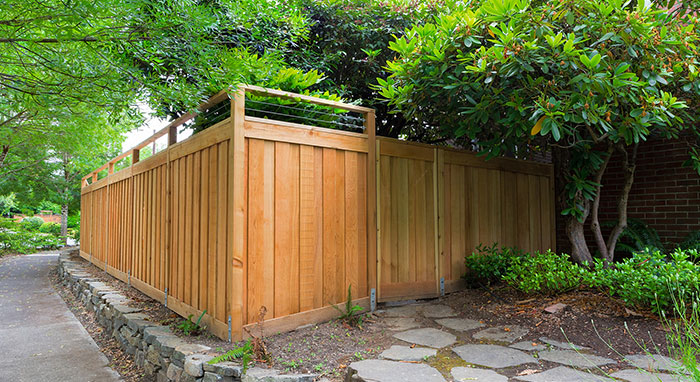 There can be many benefits to installing a fence in your home such as privacy, adding to your home's design, and keeping your home secure from wildlife like deer and mountain lions. If you are thinking about selling your home soon, you may also be wondering if installing a fence adds value to your home. As with any home upgrade, the answer depends, but there are some factors to consider when you are thinking about whether or not to add a fence. We offer a wide selection of industrial and commercial fencing options. We'll do whatever we can to make the fencing design and installation process as easy and convenient as possible so that you can focus on day-to-day operations.
Know The Costs
Many factors influence the cost of a fence, including the size of your property, and the materials you choose. HomeAdvisor estimates that the cost of installing a new fence is between $1,500 and $4,000 on average. Getting a few quotes for different materials can help you determine the best price for your project. You will also want to consider the climate you are living in, to make sure your fence is built with durability to withstand the elements.
Consider Your Materials Carefully
As with any home renovation project, there are ways to save money by using less expensive materials. If you are adding a fence to add value to your home to sell, then selecting long-lasting materials could be worth the investment. Wrought iron is generally the most expensive material to pick, while aluminum is lower maintenance. Wood is not as durable as other materials but may cost less than other options. If you add a fence it will get appraised along with your home and a higher quality material could mean a higher appraisal value
Hire An Expert
Other than the materials, how your fence is installed also contributes to its value and durability. Finding an expert means working with a contractor who will take the necessary steps to also advise you about the best fence for your property. The land around your home may need to be assessed for the best type of fence installation to ensure it will stay put for years to come.
Consider Your Buyer
When a potential buyer visits your home, they want to feel secure and ready to move in, and adding a fence can give you that sense of welcoming and belonging. A fence can also contribute to what agents call curb appeal, that is how the outside of your home appears to a potential buyer. Talk to your agent about design trends for homes in your area and be sure that the design you pick will add to your home, so it can compete with others on the market.
There's no one clear answer about whether or not a fence adds value to your home, especially if you are adding a fence to sell your home. It's best to work with your real estate agent to consider the options before making the investment. A professional can tell you if it's better to let the next buyer add the fence themselves or if it's worth adding ahead of time.